Handleless kitchens
Handleless kitchens, it seems are of interest to you. This is of no surprise as they are becoming increasingly popular and because of their timeless appearance their popularity is only set to increase. Handleless kitchens are easier to clean and are more hygienic as a result. These kitchens are more than ideal for today's hectic lifestyle. We have an unrivalled range of handleless kitchens available for you to choose from and a depth of experience in designing and installing them. Therefore, we can justify calling ourselves experts in this field. We have a passion for presenting you with a design that offers you the WOW factor, but most importantly, our designs must function as a working kitchen.
Fill in the contact form to the right and we will contact you, to start you on the route of designing your dream kitchen. We are so confident of our designs that we offer you this service for free. Therefore, you have nothing to lose. But remember this process is a partnership between us. We require you to dream. We will turn your dreams into reality as well as working within your budget. Because we source products from several leading European manufacturers we have an unrivalled choice of products. We are therefore, able to use to meet budgets from £12000 – £50000. Our suppliers give us the tools and our designers have the flair to produce a stunning kitchen.
Our handless kitchens are available in a vast range of colours (0ver 2000) and finishes. If your dream kitchen is required in a gloss finish or a matt finish our designers will design you a stunning design to match your budget. Stone finishes, glass, lacquers, laminates,ceramics, book matched timbers the choice is yours.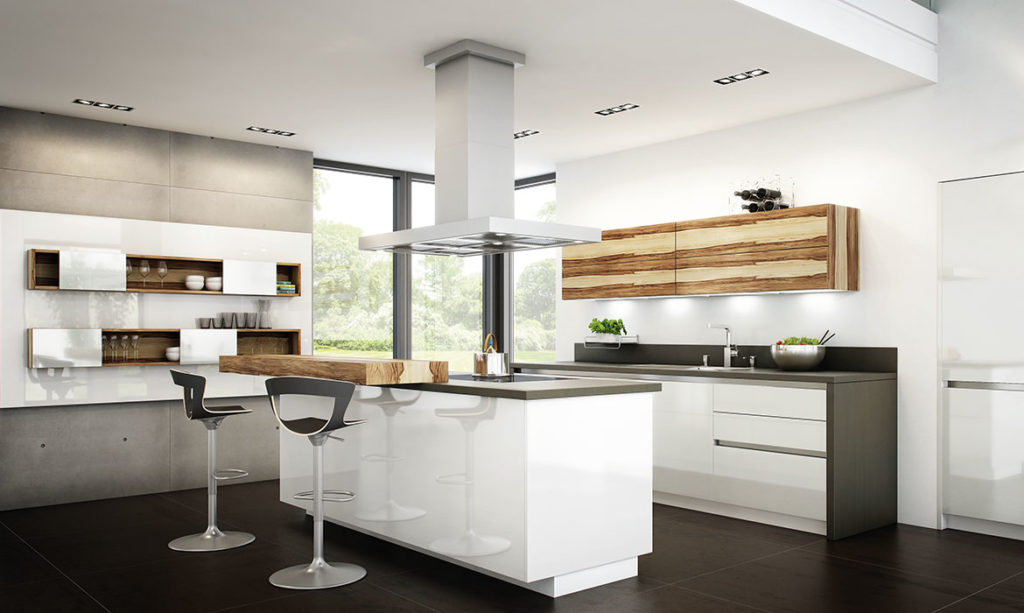 First of all is this handleless kitchen design from German Kitchen manufacturer, Rempp. This will satisfy even the most demanding of clients. The use of glass fronted doors offer the ultimate in gloss finish, while the timber doors have been book matched so that the woodgrain continues through the design.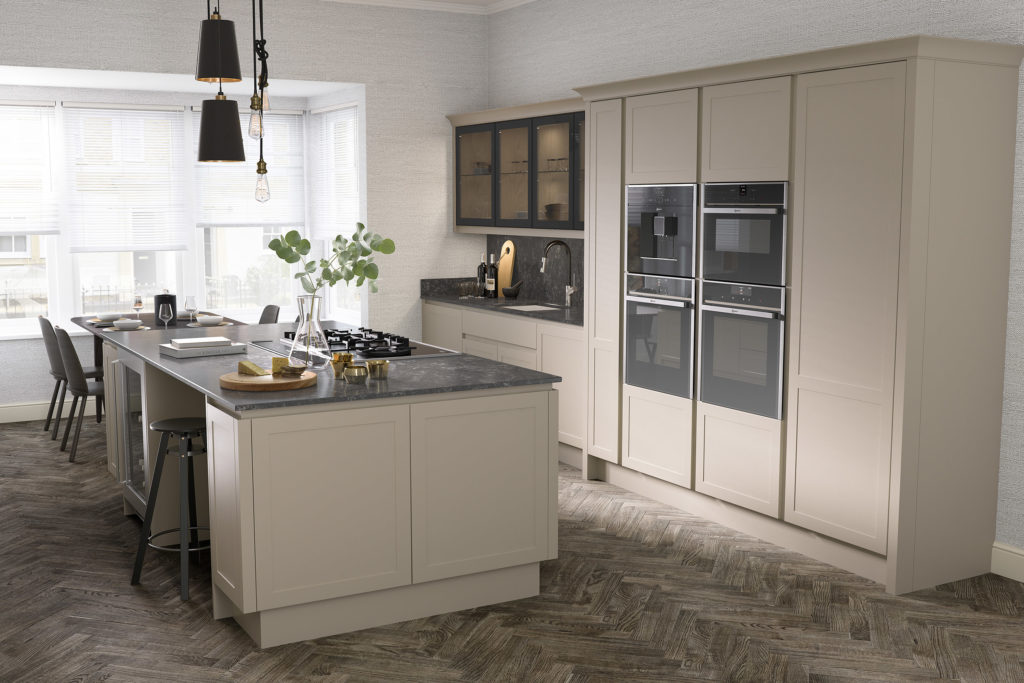 Available in a number of colours this modern handle-less design retains a traditional styling for those who would prefer the painted shaker look.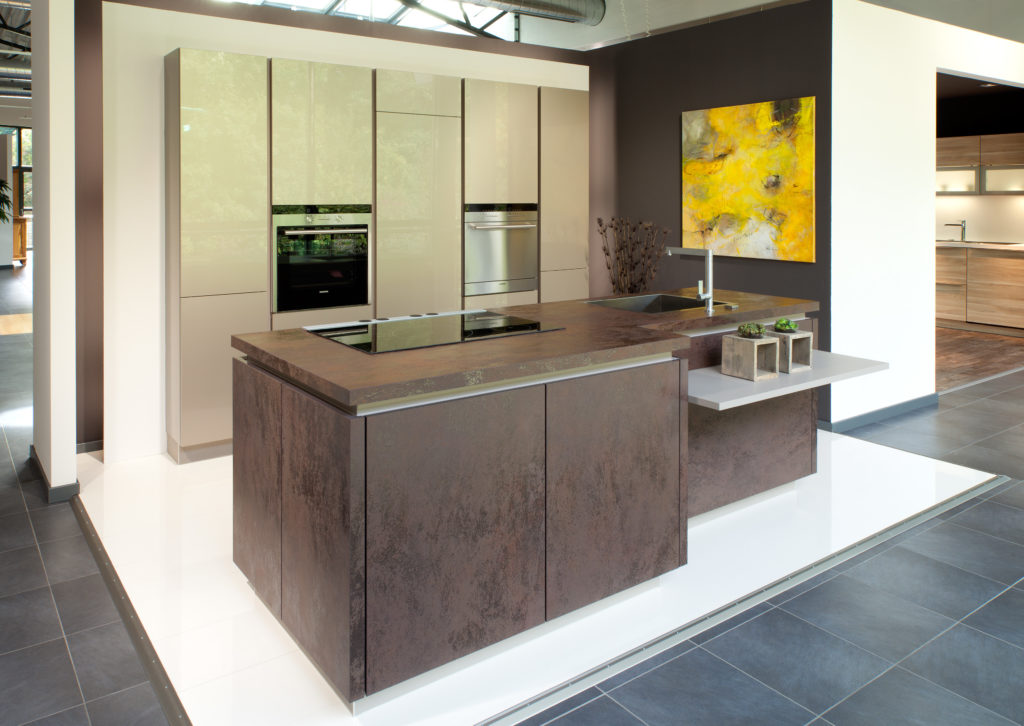 Another design by Rempp. The Ceramic fronts are extremely hardwearing and when combined with ceramic worktops the finished kitchen is virtually indestructible. You don't need to worry about scratches or stains and even hot pans can be placed directly onto the work surface without causing damage. Ceramic fronts are great for wheel chair users where impact resistance is critical.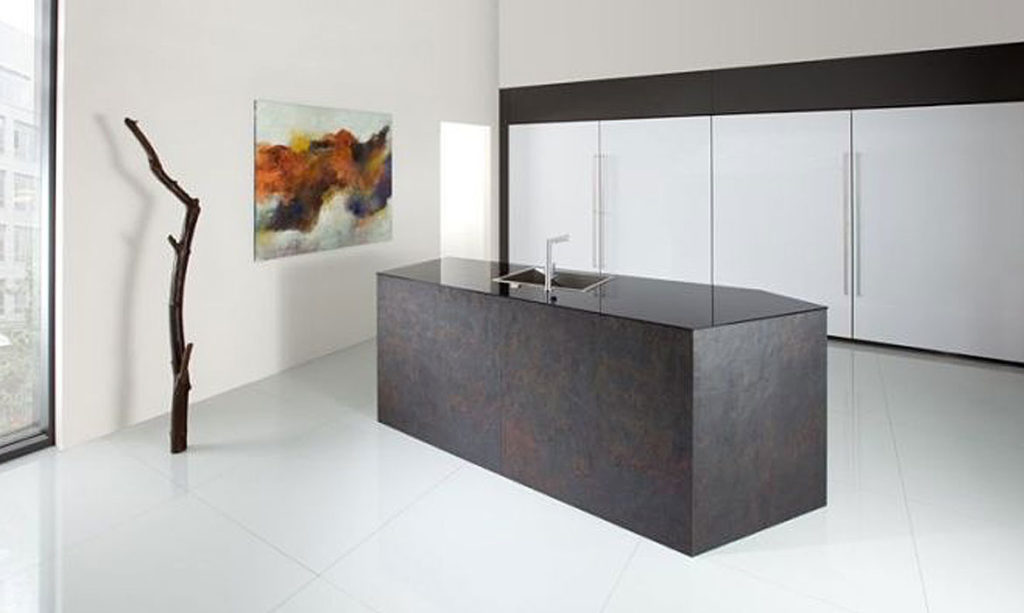 In this design the island has been clad with real stone (black slate). Only slate can offer the texture and ever changing colours (as the light changes) that this design brings to our portfolio. The appliances have been hidden behind the doors at the rear of the kitchen.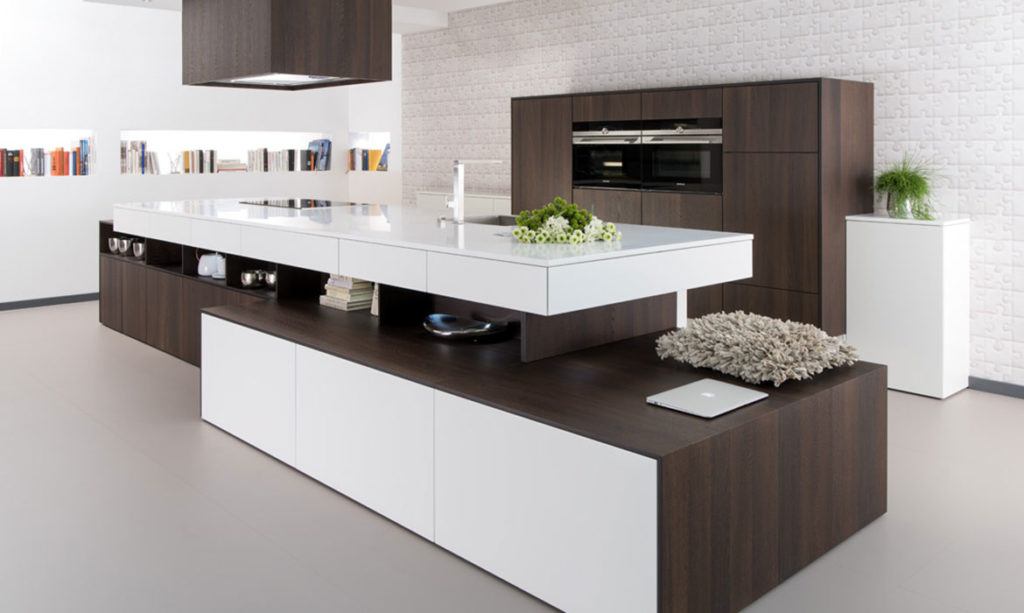 In this Rempp design the plinth has been removed, because open plan living is becoming ever more popular it is important for the kitchen to blend in and look like a part of the furniture. In smaller kitchens this is a great way we can increase storage. In this case a matt lacquer and real wood veneer have been combined to great effect by the designers.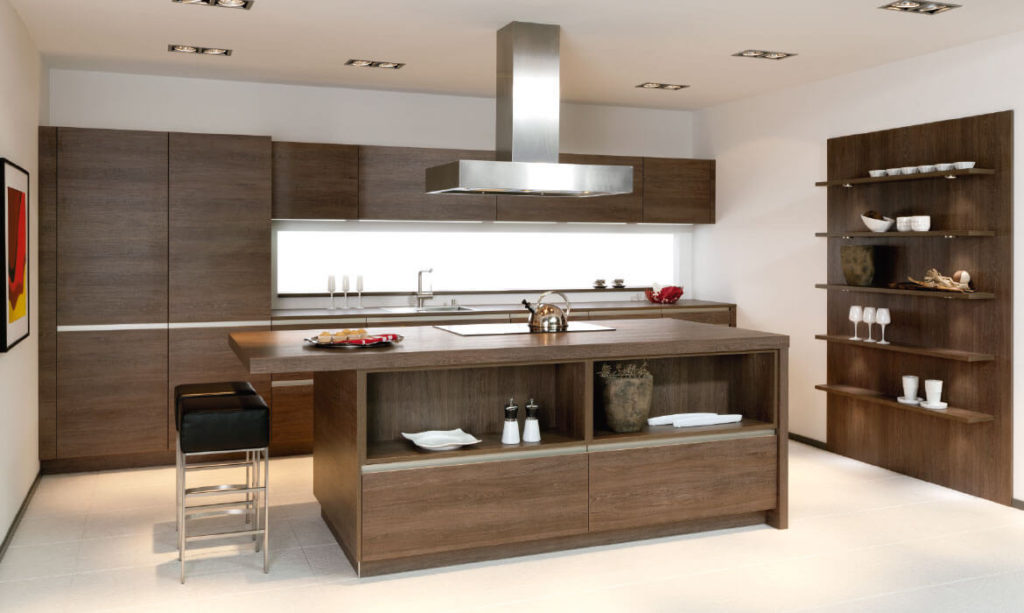 With the latest designs it is difficult to differentiate between real wood and copies. This oak look melamine is harder wearing than real wood and is great for where the kitchen has to weather the storm of sticky little fingers !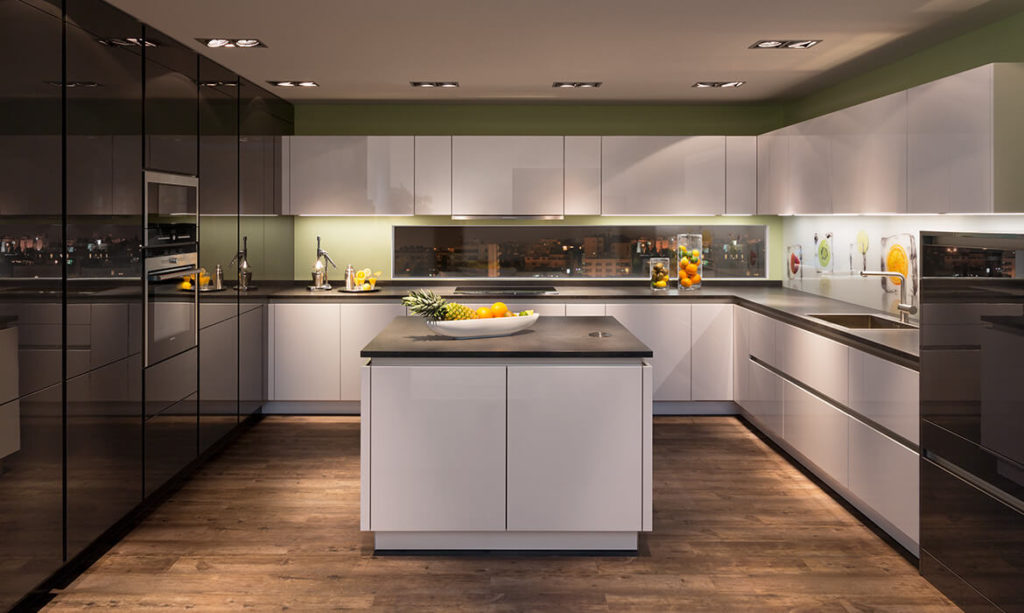 The designers use of reflective lacquered surfaces in Graphite and white has been enhanced by the use of a glass splash adding a little colour. The timber floor adds a degree of warmth to the kitchen.  Are you dreaming of a pink kitchen?  Because this is a lacquer finish, available in 1000's colours we can turn your dream kitchen into reality!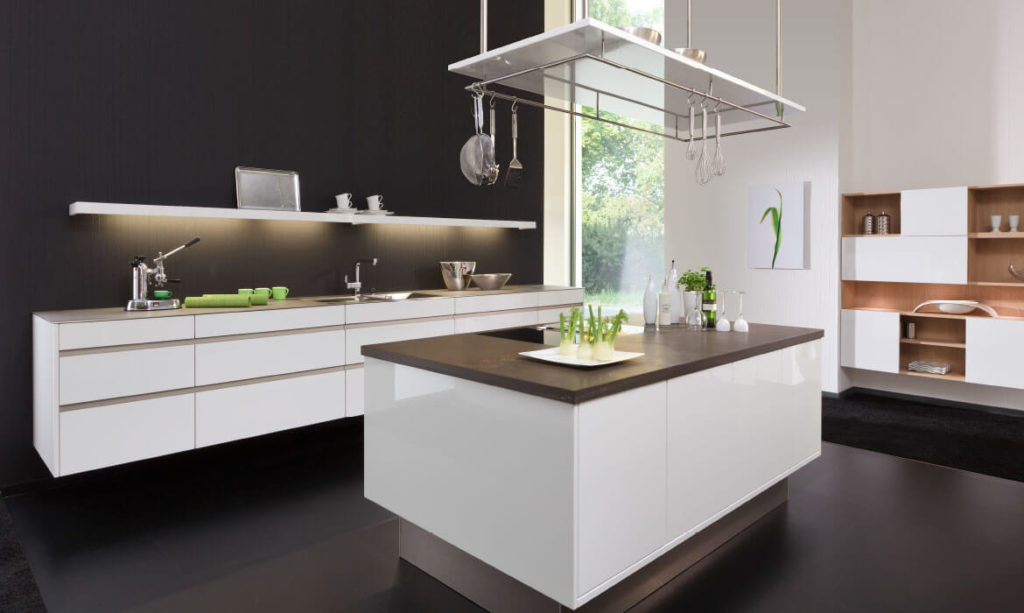 In this case the designer has used 'floating' cabinets along with a shelf unit where the doors slide across to hide or reveal the contents. With lighting these can provide a real focal point in an open plan setting.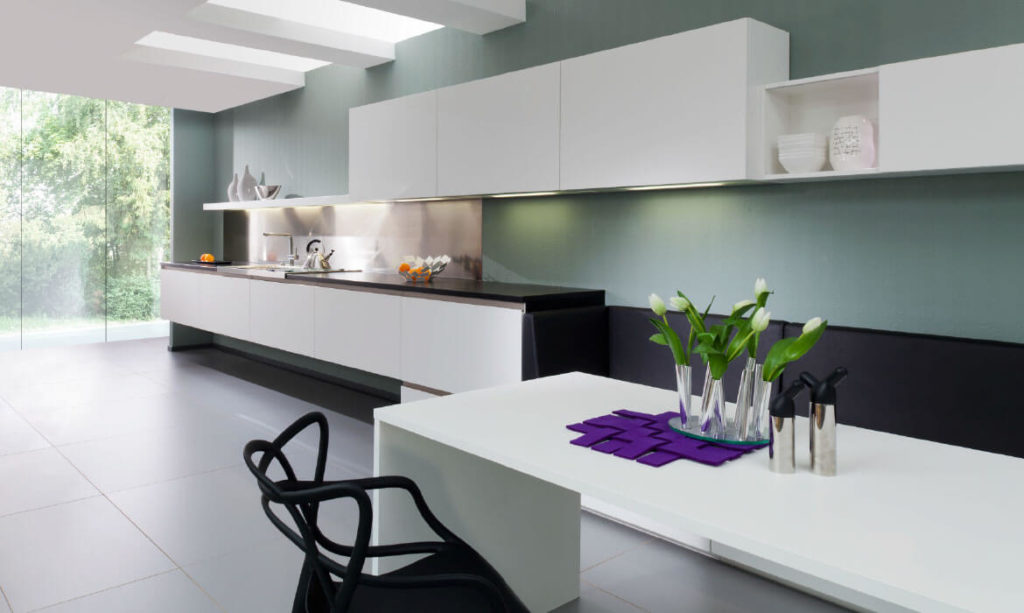 Shown in Matt lacquered white, the designer's use of the 'floating' and different height/depth cabinets has provided interest in what would normally be a simple run of 'boxes' on walls. The designer's flair and the availability of the necessary cabinets has resulted in a stunning kitchen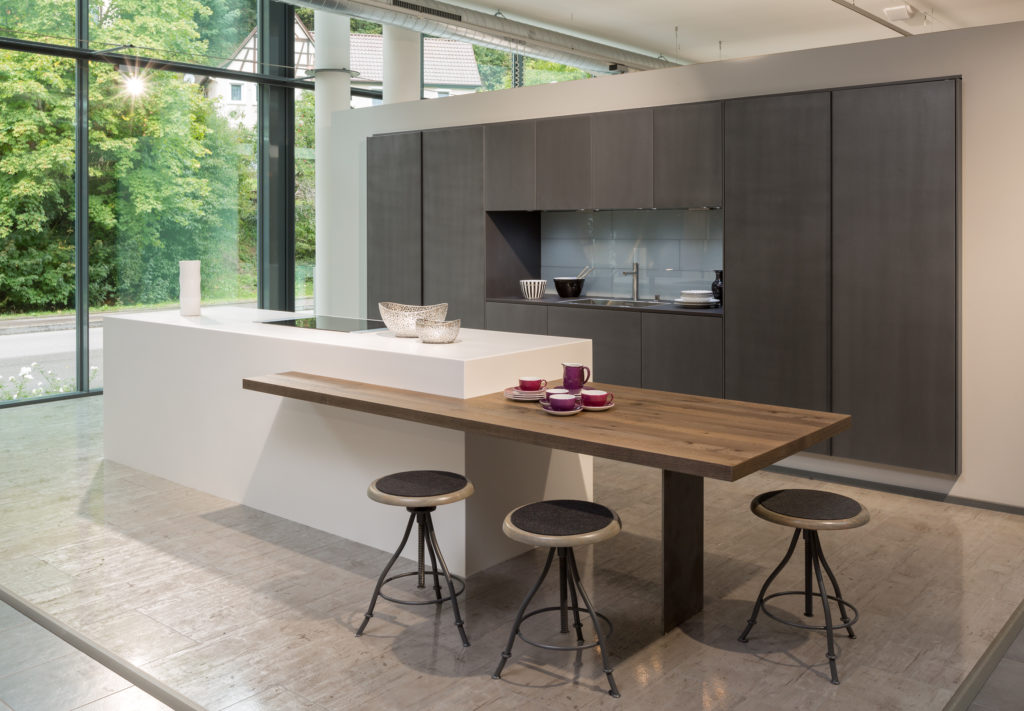 In this design, Rempp have used the 'touch push open' handleless design. A simple push on the door and it opens. The appliances are hidden behind pocket doors so that they can be hidden away when not in use. The unique hand finished lacquer shimmers in the light and is stunning.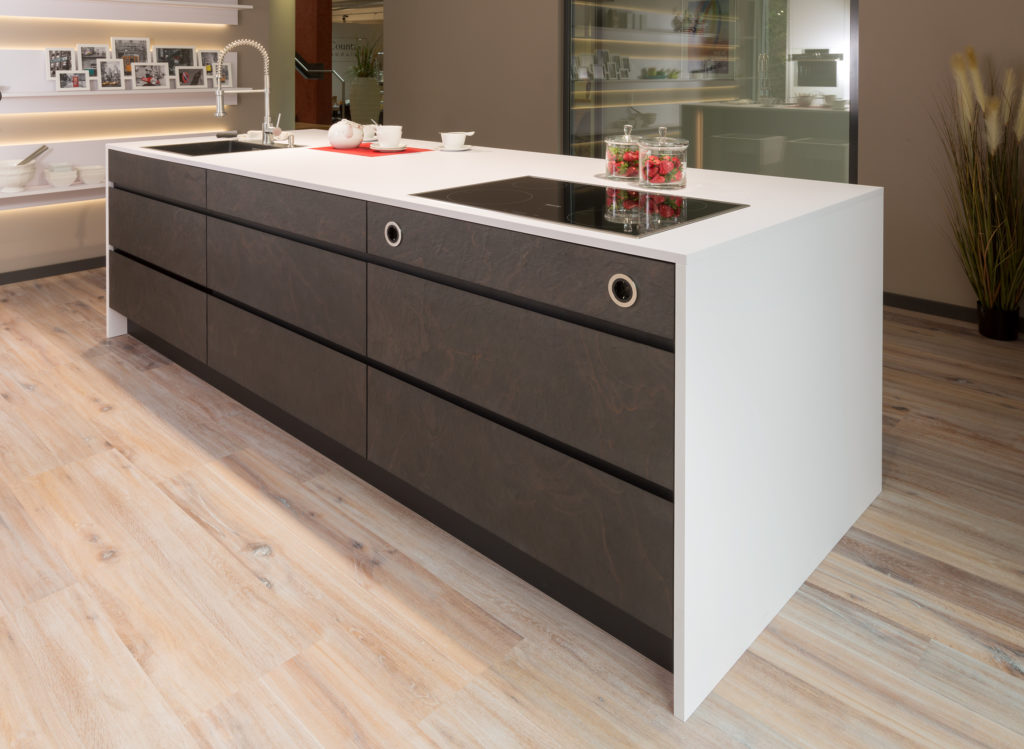 Another example of the Black Slate stone fronts. Used here with a coordinated handle rail, rather than the steel one shown in other images of handleless kitchens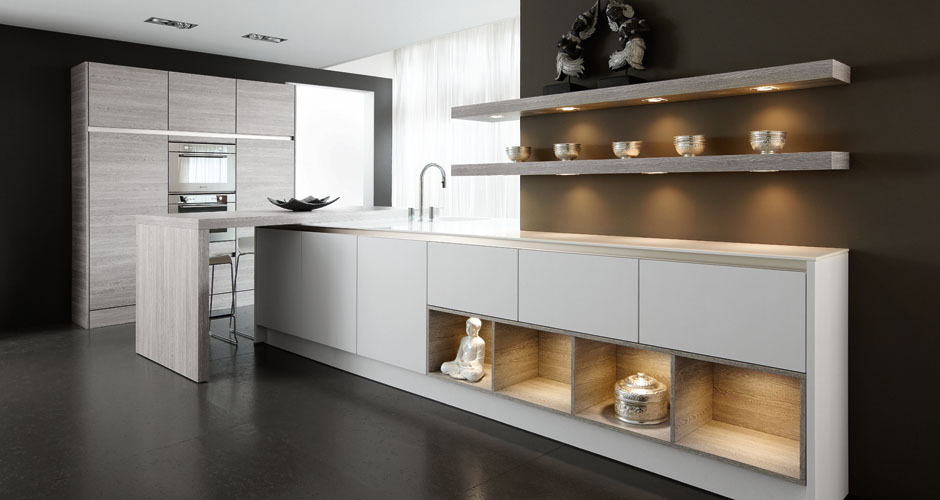 Keller's handleless kitchens are available in a number of finishes. The GL5100 shown here is in Ice Silk Gloss White (a satin lacquer) combined with Ash Grey Laminate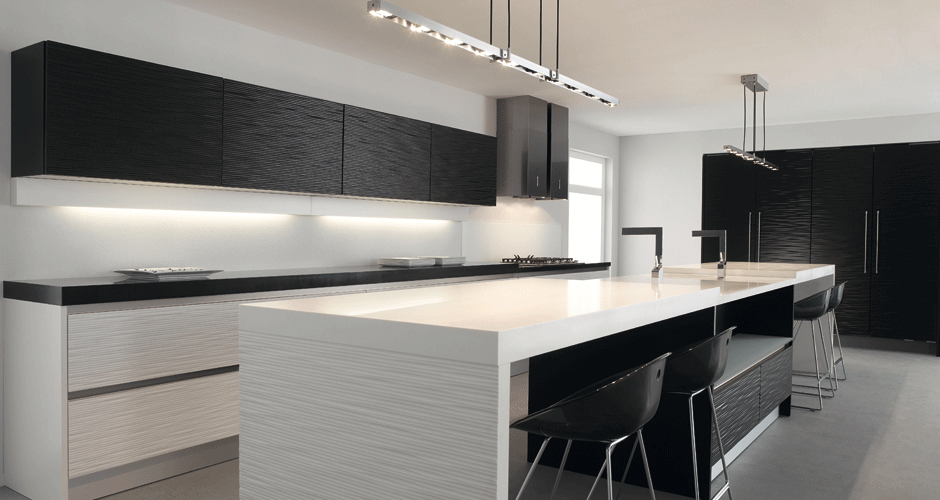 This stunning design by Keller, the GL7300 is available in over 1900 NCS colours. Shown here in Black and White in the silk gloss satin lacquer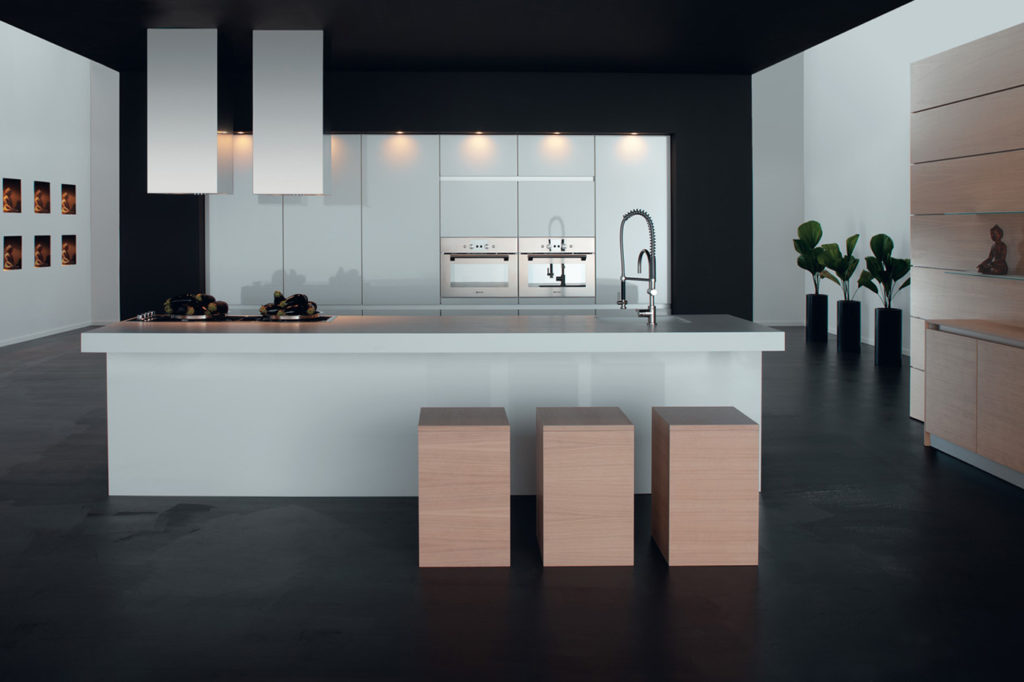 Keller's GL4000 in High Gloss White. The high gloss acrylic is available in 8 colours other than white.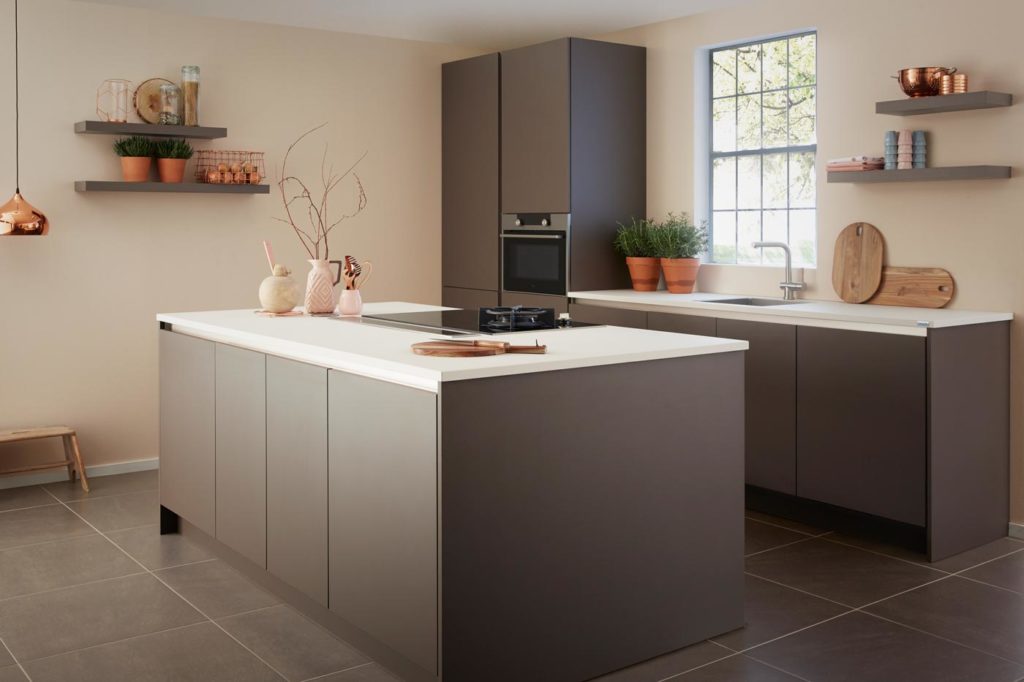 Keller's GL2000 in Truffle a melamine finish that is extremely hard wearing.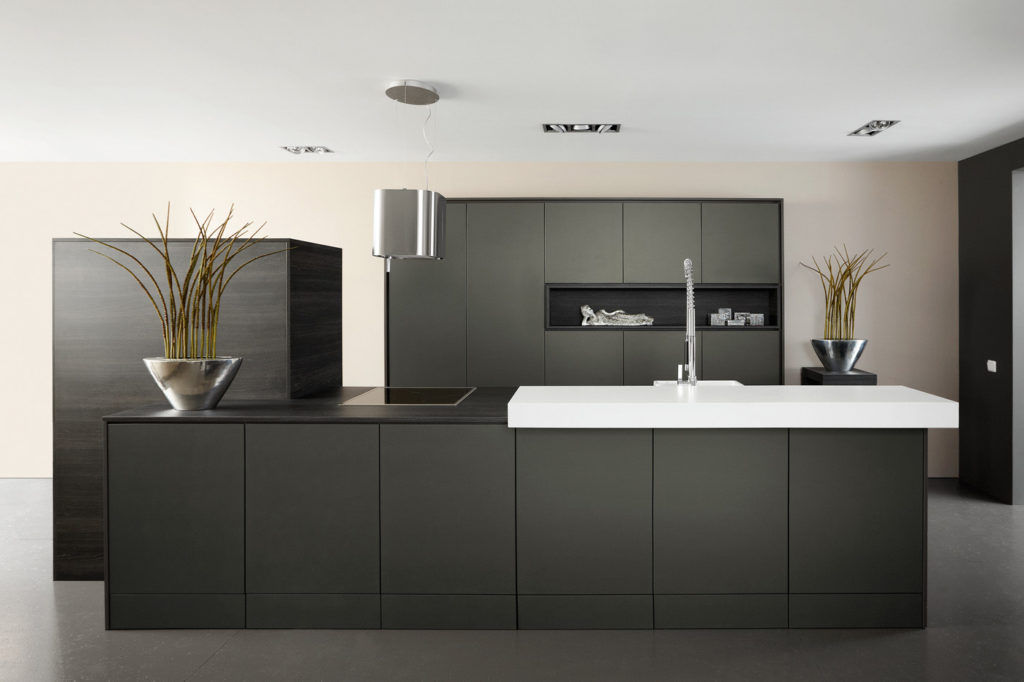 Keller GL5100 in NCS colour in the structured lacquer. This is a matt finish with a very fine texture, designed to avoid fingerprints showing.
These images show a selection of what is available to our designers. Fill in the contact form to the right and we will contact you, to start you on the route of designing your dream kitchen. Remember, our design service is free. You have nothing to lose and a great kitchen to gain!