Rempp Kitchens – German kitchen design at its best.
Visit our showroom, one of the largest in the North East and see for yourself the quality of this exciting brand of kitchens. German kitchen design is regarded as being amongst the best in the world. Rempp is regarded as being amongst the best in Germany. If you want a kitchen that truly stands out from the rest then this range should be at the top of your viewing list. Rempp Kitchens are known for their craftsmanship, designed and tailored to meet the exact requirements of the customer. Therefore every inch of space will be utilised to maximise kitchen storage and most of all, ease of use.
Equip your home with a luxury Rempp kitchen, premium functional furniture that meets your expectations on quality and perfection. Rempp gives us the opportunity to provide you, our discerning clients with luxury kitchens that are a level above anything else you will find. The Rempp range is unique, in many ways, allowing us to create kitchen designs that are unique to our valued customers. Visit our kitchen showroom and view German Kitchen design at it's best. Several displays showcase the quality of this product in the latest design finishes and colours.
Fill in the contact form to the right and we will contact you, to start you on the route of designing your dream kitchen. We are so confident of our designs that we offer you this service for free.
In this image the timber doors are book matched so that the grain runs continually through several doors while the Vigo Quartz white GLASS doors to the remaining areas of the kitchen offer the ultimate finish for a white gloss kitchen.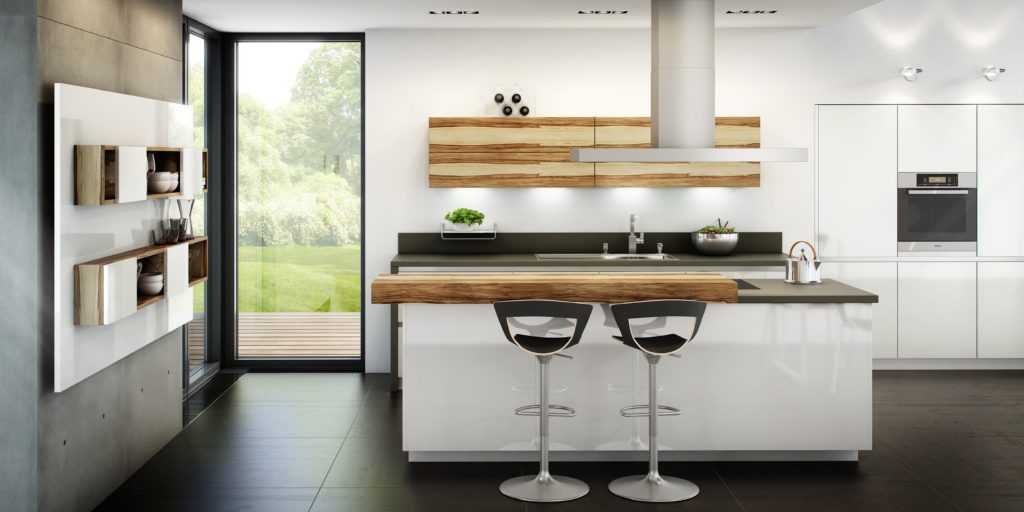 If you prefer a less reflective finish then Vigo Quartz Satin offers a luxurious satin GLASS finish. In this kitchen the timber door at the rear of the kitchen slides across to hide the oven when not in use to reveal functional and yet stylish shelving.
Vigo Ceramic offers the ultimate in durability while stone veneers, lacquered for protection, the surfaces delight with their natural shades.
ALBORG WITH TORONTO
The naturalness of the veneered oak planks can virtually be felt thanks to the specially sliced veneers. In combination with the white lacquered front of the model Toronto, this kitchen is a true eye-catcher. With 10 different veneers available, virtually no plinth and 1000's of colour choices your kitchen can be truly individual.