Testimonial
Dear Andrew
Please find enclosed the cheque as promised.
Also we would like to thank you so much for the excellent service from you. From the first contact to completion the whole process has been fantastic. You gave our kitchen so much thought. We really are over the moon and would recommend you without hesitation. The kitchen fitters were excellent too. 100% happy!
Thanks so, so much
Best Wishes
L MEEK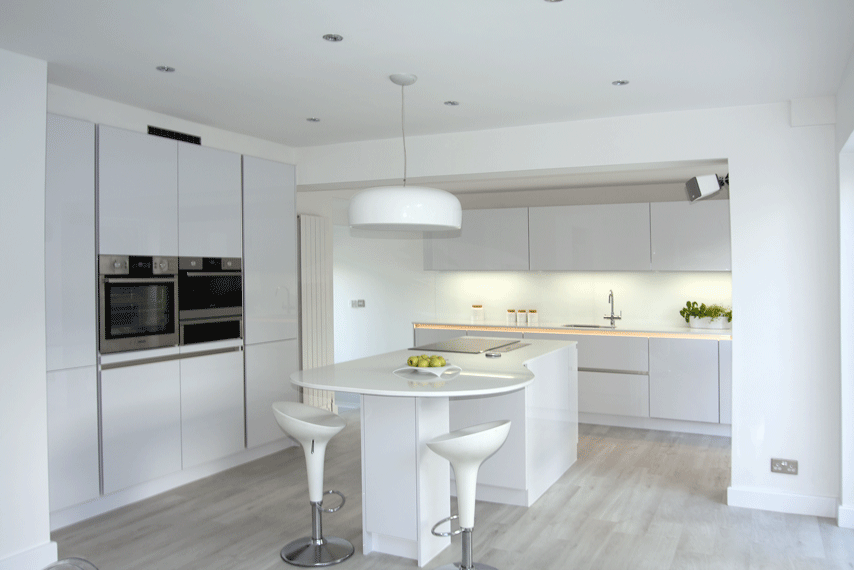 The Brief
From the moment I met Louise and entered her home it was immediately apparent the type of kitchen design Louise would be looking for. With white décor and modern furniture it didn't surprise me when she said " I want a modern kitchen in white, I love white". Louise explained that some re-modelling of the house was taking place, that the existing wall between the dining room and kitchen was being removed and that the existing kitchen window was being taken out to allow for the installation of bi-fold doors giving straight access into the garden. She explained she wanted a bank of tall units and an island. The full height window pictured at the end of the sink run was an existing standard window at this point and Louise suggested that maybe the units would follow round the with the sink under this window.
With this being the initial view of the kitchen as you entered it from a doorway this needed to be a focal point especially since this window looked out over the garden. I suggested the window be replaced with a full height window to mirror the bi-fold sliding doors. Not only did this provide a view into the garden as the kitchen was entered from this side but with careful positioning of the island it allowed for a view of a larger area of the garden from the hob. It also allowed for more natural light at this end of the room. A conventional extractor would have obstructed the view so a pop up extractor was installed into the island itself. At the press of a button it rises up when needed and retracts back into the island when finished with.