Cream Shaker Kitchen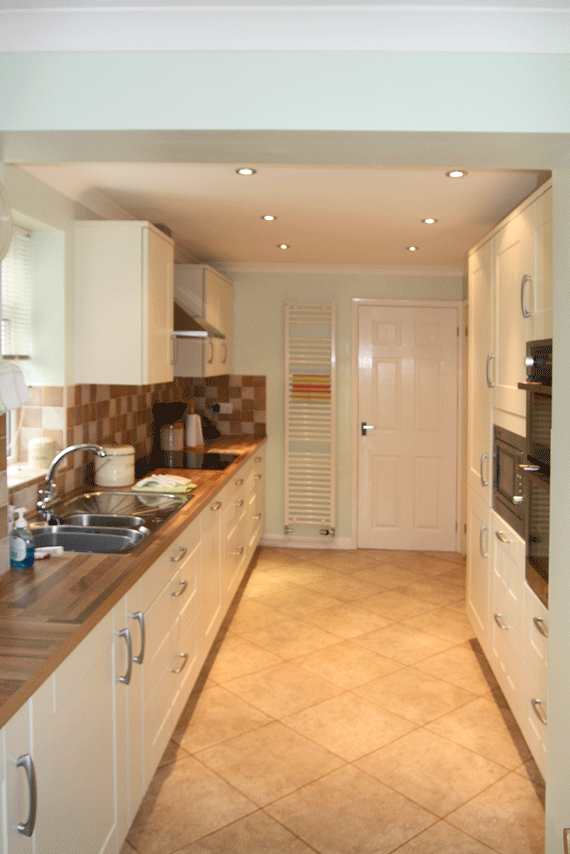 The Brief
The original kitchen was cold with no radiator so the inclusion of a radiator was the over riding consideration in the design. We had to tap into the bathroom plumbing upstairs to do this. The kitchen was poorly lit and because we needed to block up a window to include extraction above the hob this would only serve to make the kitchen even darker. A pale cream kitchen was chosen, spotlights were introduced to the ceiling and under unit lighting was installed. Easy access to the cabinets and appliances was an essential factor and therefore a large number of drawers, high level oven and microwave were an important part of the design.
Testimonial
Dear Andrew,
Although we wrote to you to thank you and the team for installing our new kitchen, it did not do justice to all the benefits our new kitchen have given us, now that we have been using it for 6 months. As you may remember, it was vital that we had a ladder radiator in the kitchen end of the room. This has proved to be a source of great comfort , especially to me, as I am now happy to go into the warm kitchen, even on the coldest evening, just to potter around and keep everything clean and tidy.
In use the kitchen is perfect, the sink, cooker, fridge, hob and dishwasher all being a step or two from one another. The other innovation for us was the cooker hood. Using it at appropriate times has helped to keep steam from walls and windows, as well as reducing cooking odours. We also love the smooth close doors and drawers.
Of course, all this could not have happened without you and your super team who came and worked so hard to make it a reality. We were interested in every bit of work that was done. The team also had a "can-do" attitude. There were no problems, only solutions ! Their appetite for tea, coffee and biscuits was endless, but they rarely stopped work, preferring to carry on working in between gulps of drinks and munches of biscuits! They were a happy team, plenty of friendly banter, and always left the room as tidy as possible at the end of the day. Most important of all, their work was of a high standard, which of course is what the customer expects, but doesn't always get!. I shall always be happy to recommend your company for quality of workmanship.
Lastly, thank you Andrew for overseeing the whole thing, and for bringing our wishes into reality of such a high standard of practicality and appearance .
Many thanks to you and to the whole team for their excellent work
Yours sincerely,
Kathleen & Lewis Maidens